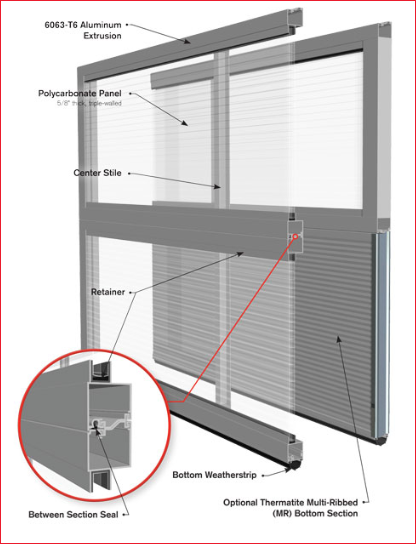 P175/P175T SECTION DIMENSIONS
Section Thickness 1 3/4″ (45mm)
Section Height 21″ & 24″ (533mm & 610mm)
OPENING WIDTHS
Basic Windload: 8′-0″ – 16′-2″ (2438mm – 4877mm)
15 psf Design: 8′-0″ – 24′-2″ (2438mm – 7366mm)
Custom Door Width: Up to 30′-2″ (9195mm)
POLYCARBONATE PANELING
The external side of the Polycarbonate is protected with a coextruded layer warranting resistance to atmospheric agents and U.V. rays.
Thickness: 5/8″ (16mm)
Structure: Triple-walled
Weight: 0.553lbs/sq ft (2.69 kg/sq m)
R-Factor: 2.500 ft2 hF/Btu
U-Factor: 2.271 W/m2K
Fire Reaction: ASTM E84-01 Flame spread and smoke. Developed: Class A.
Solar Heat Gain Coefficient: Clear: 75; Bronze: 57; White: 63
Stock Colours: Clear, Dark Bronze, Western Bronze
Optional Colours: Green, Blue, White
SECTION FRAMING
Fabricated from 6063-T6 aluminum alloy extrusions, extrusion thickness 0.063″ (1.6mm) thick, and 0.090″ (2.18mm) thick at hardware mounting locations.
End stiles: 2 1/2″ (64mm) wide aluminum; Double end stiles for doors over 16′-2″ (4928mm) wide
Centre stiles: 3″ (76mm) wide aluminum
Pair of meeting rails: 4 1/2″ (114mm) high aluminum
Top rail: 2 3/16″ (56mm) high aluminum
Top rail: 2 9/16″ (65mm) high aluminum
Stock Colours: Clear Anodized, Bronze, White
OPTIONAL THERMATITE MULTI-RIBBED (MR) BOTTOM SECTION (P175T)
Insulated sections fabricated from pre-painted, hot dipped galvanized, steel sheet; with rigid polyurethane insulation core, CFC and HCFC free, face sheet stucco embossed and rib reinforced.
R-Factor: 16.000 ft2 hF/Btu
U-Factor: 0.355 W/m2K
WARRANTY
Polytite Panels: 10 years against breakage, excessive yellowing and loss of light transmission
Materials and workmanship: 1 year
STANDARD / OPTIONAL HARDWARE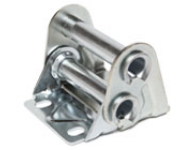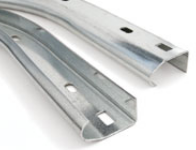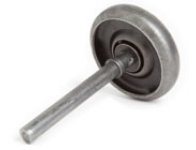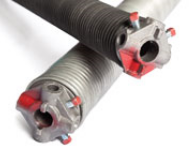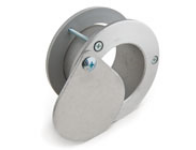 Standard Hardware
Weatherstripping
Full length retainer and bulb weather strip minimize air flow and ensure weather-tightness at the base of your door.
Trussing
Doors are constructed to withstand wind load specified in ANSI/DASMA 108. Linear style trusses are provided according to door size. Additional trussing can be provided for higher wind load applications.
Track
Roll formed from commercial galvanized steel. Vertical tracks sloped to ensure weather tight seal. Horizontal track curve available in 12″ (305mm) or normally provided 16″ (406mm) radius.
Track Brackets
Bolted type, field adjustable, rib reinforced, stamped from 0.123″ (3.1 mm) thick commercial galvanized steel.
Rollers
Ten ball bearings provide years of smooth and quiet operation. 7/16″ (11mm) diameter standard stem, long stem on doors over 16'-2″ (4928mm) wide.
Counter Balance
Helically wound torsion springs manufactured from oil tempered spring wire, stress relieved, minimum 10,000 cycles. Aluminum die-cast grooved drums. Flexible 7 x 19 construction aircraft type galvanized cables with 5:1 safety factor. Higher cycle available upon request.
Horizontal Angle
72″ (1829 mm) long or 90″ (2286mm) for 3″ hardware.
Hinges
Linear type, fabricated from 0.078″ or 0.106″ (2 or 2.7mm) thick zinc plated steel with embossments designed to resist higher load and provide greater stability resulting in improved performance.
Top Roller Carrier
Fabricated from zinc plated steel designed to provide greater stability, field adjustable to ensure weather tight seal.
Roller Brackets
Linear type fabricated from 0.078″ or 0.106″ (2 or 2.7mm) zinc plated steel. Graduated type design to ensure weather tight seal.
Shafts
1″ (25mm) diameter 0.078″ (2mm) tube or 1/8″ (3mm) wall keyed full length or 1″ (25mm) diameter cold rolled galvanized steel keyed full length.
Head Plates
Full height fabricated from galvanized steel, complete with bolt-on type bearings.
Lock
Interior slide bolt type.
Mounting Fasteners
Zinc plated.
Optional Hardware
Exhaust port: 3″ (76 mm) / 4″ (102mm) / 5″ (127mm) diameter